«I don't mind that people find a way to get it (the music, the CDs) free. It's more important the people hear the music … The most of the money that you make as a musician is from your touring. So the more people hear the music, the better is for the concert.»
Just fifteen minutes before the soundcheck of the Overtone Quartet concert (Guimarães Jazz Festival - November 2009), Dave Holland gave me a short but interesting interview.


JazzLogical. Ten years ago you gave me an interview for the Independente where I was writing at that time. One of the questions I put was why didn't you had pianists in your bands. You answered the piano was a very dominant instrument. And you needed more space for the bass. The band that is going to play tonight have a pianist. What changed?
Dave Holland. Well, I needed space for the music, not for the bass. At that time I wanted the more open harmonic context.
When was that? Because since 1989 I've been using chord instruments. I had a guitar with Kevin Eubanks, and after this a vibraphone with Steve Nelson. So for me it's not a question of the chord. I was looking in some way for the right pianist, because this is also the question I think I might have said. Because I said this before, that if Duke Ellington was available or Thelonious Monk, I would be interested. Because the way they used the piano, very orchestral. Very clean and with a lot of space.
So, now I have a piano player with me, Jason Moran. Jason is a extremely important musician and very unique; but also is building on those traditions of Ellington, Monk, Andrew Hill… For me, he uses the piano in a very special way.
And, you know, music changes as time goes by. And the needs of the music change. My last record was a sextet with Mulgrew Miller on piano. Passed On was the record. It was a sextet and the music I conceived for that record needed the piano. It was also because I wanted to play with Mulgrew Miller. Because I like this man very much. I have another record with Gonzalo Rubalcaba. The Monterey Quartet. Another great pianist and a great unique pianist as well.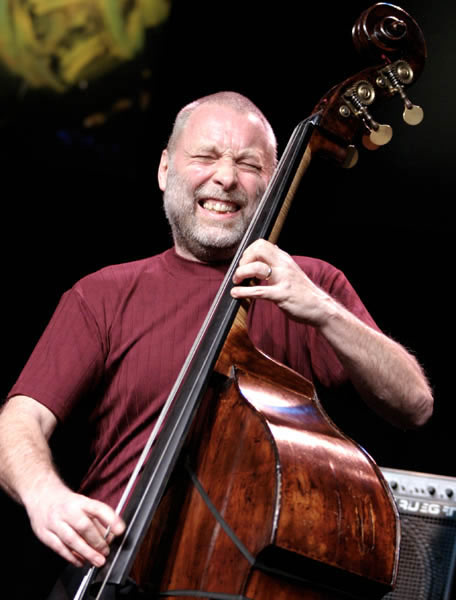 JazzLogical. You played with Thelonious Monk. When was that?
Dave Holland. Jason Moran have just given to me a recording that was made by the saxophone player of me playing with Monk. At the Village Vanguard in 1972.
Then I worked with Stan Getz. A year and half. There is one record available called The Left Bank Jazz Society. I worked with Stan Getz at this time and during a time when I was not on the road with Stan, Monk invited me to work with him.
JazzLogical. Who else was playing with you?
Dave Holland. Paul Jeffrey and T.S.Monk, his son. This was almost the first time that he worked with his father, I think.
JazzLogical. You've born in England… You started playing there?
Dave Holland. I was born in Wolverhampton, in the midlands area. I started working as a musician on 13. I turned professional when I was 17 and then I moved to London. I lived in London for four years, and then in 1968 I moved to New York to play with Miles.
JazzLogical. Another question I'd like to put you is related with Miles Davis.
In the previous interview, 10 years ago, I asked you how were it to play with Miles. You answered me he was a very strong leader, and you learned a lot with him. Well, there's a video performing the life of Miles Davis, a biographic video were in some moment you are with Jack DeJohnette and you both were laughing about that time stories. And someone ask you what were de instructions of Miles in the recording of Bitches Brew. You joked and said Miles told you «well, just move on…». That does not seems to me an example of a strong leadership…
Dave Holland. The strong leader gives power to the people. And Duke Ellington, John Coltrane, Miles Davis, all the great leaders, they give power to the musicians. And decision.
I learned a lot with them. When I write I create music with room for the musicians. To have power; to play their creative ideas.
What I'm saying is I create trying to make a situation which gives that opportunity to the musicians.
JazzLogical. OK, changing the subject. You have your own label. Do you sell records? I mean, with the piracy and the Internet, do you make money selling records?
Dave Holland. It doesn't matter to me. As long as people hear the music. I don't mind that people find a way to get it free.
It's more important the people hear the music. The main event has always been the concert. The most of the money that you make as a musician is from your touring. So the more people hear the music, the better is for the concert.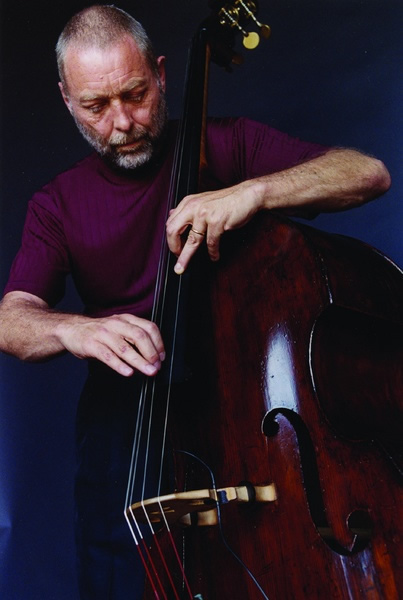 JazzLogical. So the record is like a presentation card?
Dave Holland. Well, it's a document. The document of a moment. Of a project. That's what it is.
JazzLogical. So, what are your projects now.

Dave Holland. After this Overtone tour, in the moment I'm launching a new website which is daveholland.com. There has been a site for many years and now we have a new site. And we have a new release coming out which is gonna be an octet featuring my quintet - which is Chris Potter, Robin Eubanks, Nate Smith and Steve Nelson, and three other horn players, Antonio Hart, Gary Smulyan and Alex Sipiagin. Vibes, drums, alto saxophone, tenor saxophone, baritone saxophone, trombone and trumpet. And bass. We recorded live at Birdland in January and the record will be released on the website in December. And then will be released as a hardcopy in February next year.
I also have a flamenco project coming with Pepe Habichuela. You probably don't know him. He is one of the greatest masters of the flamenco guitar on the moment. He's about my age and he comes from a great family of singers and dancers. And for the last three years I've been going to Spain to work with him and to develop the music. In March this year we recorded in Madrid and this record is coming out in June on my label with Pepe, his son, Josemi Carmona and two cajon players. And so I hope we come to Portugal with it. It is traditional flamenco; is not Jazz flamenco. I have written two songs on the record, but most of them are traditional dances, fandango, segurias, bulerias, and many others. Beautiful music. So I hope you enjoy when you hear it.


http://www.daveholland.com/