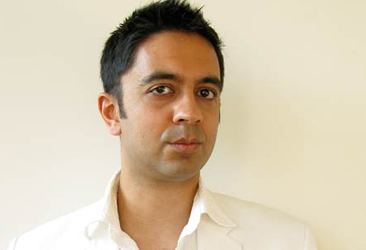 Vijay Iyer
«As artist you have to be connected with the world. You have to be aware, you have to be critical of what's around you.»
Historicity (
)of Vijay Iyer has just been voted by the panel of critics assembled each year by Down Beat, The Album of the Year 2009. Here is the (15 minutes short) interview I conducted at the end of the concert of the Serralves concert, last July (Jazz no Parque 2010), where Vijay speaks of his ideas on the piano, about Jazz and the world. Many things were left to ask and answer…

JazzLogical.
Your last record is a piano trio. But the precedents had also your friend Rudresh Mahanthappa in the saxophone. How is it to play without saxophone? What are the differences?
Vijay Iyer
Well, the orchestration is different.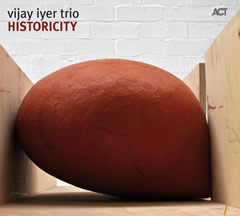 Part of it is because where the melody comes from, is not just from a wind instrument, but is from everywhere. And is also because we are all playing with our hands. I play with my hands and the same does de drummer and the bass player. In a way it is all tactile. Entire landscape. It's a handmade universe. And you find different connections between the different instruments because of that. And also where lyricism comes from is some more mysterious: there is no direct connection to the voice. A wind instrument is closer to the voice, because it comes from the lung and it comes from the mouth and you fill direct connections because of that. The piano and the bass is more like an analogy, is more like lyricism as a metaphor; melody works differently. So we are often more like a rhythm section kind of thing. It's rhythm section activity.
JazzLogical
When you say the saxophone is closer to the voice it means it is a more human instrument, I mean, a more emotive instrument?
Vijay Iyer
No. The voice is one part of being human, but so is the arms, the hands, the limbs, the walking and touching; there are all other sides of being human. Like I said, is more or less tactile, not emotive. The emotion comes from different places. We tent to privilege the voice, but I privilege action rather than speech. Action speaks louder than words.
JazzLogical
Are you changing your music? In the last years, your music had always saxophone players like Rudresh or Steve Coleman or Leo Smith and other musicians and instruments. Now you recorded a piano trio and, as I heard, your next record will be a piano solo…
Vijay Iyer
Not at all. I'm doing a duo concert next week with Rudresh. I'm still working with him.
I'll say this: in the quartet format we did four albums with my quartet with Rudresh in it, we did maybe four albums of his quartet with me in it, we did duo albums, and we toured for fifteen years. So, we think there is plenty else to do and I feel we've documentaried a really large amount of material together. We continue to create and explore that, but we are giving a time.
JazzLogical
Changing the subject. Who are your masters, your heroes in the piano?
Vijay Iyer
Well, You are hearing one of them buy now (we were hearing Thelonious Monk). He is the number one. And Duke Ellington…
JazzLogical
Duke Ellington as a piano player?
Vijay Iyer
Yes, very much. And Andrew Hill, Randy Weston, Cecil Taylor, McCoy Tyner, Bud Powell…
JazzLogical
You mean everybody…
Vijay Iyer
No, but there's still a certain specific line: Herbie Nichols, Elmo Hope, Sun Ra… You know, there are players all the people love. If you ask them, they'll say Bill Evans, Keith Jarrett, Brad Mehldau…I'll say I admire them and I think they're incredible musicians, but my orientations are different. And part of it is that the ones I named, Thelonious, Ellington, Sun Ra, are composer-pianists. Not just piano players; they're builders of music in a very profound sense. They are making choices from top to bottom in what the music sound like. Not just about grand standard show off players very fast or clean, it's more about mystery, it's about creation.

JazzLogical
In the liner notes of your last record, Historicity, you quoted Antonio Gramsci. How did it come to you? He is better known in Europe than in the US, I think: after all he was Marxist!
Vijay Iyer
He was a Marxist philosopher, two dirty words in America. But there are people who know him and his writings. I'm a good friend of Robin Kelley, the author of a book about Thelonious Monk, the biography of Monk. He spent forty years on it! Anyway, he is a historian and a Marxist scholar. He is very important for my thinking. Also I worked with Amiri Baraka for many years and others. Most of the people I deal with are radicals, like politically speaking. So I learned a lot of spending time with this folks. And that turned me on.
Even going back when I first started leading groups, I was working with Asian Americans in California who were part of these activist organizations. So activism and arts has always been coming into mind.
JazzLogical
When I read it the liner notes of Historicity I made a connection, because Gramsci inspired the Subaltern Studies. Is there a connection in our mind?
Vijay Iyer
Absolutely! If you draw the line behalf how it came to me, it's through that.
I studied theory of philosophy when I was undergraduate, and it always has been important for me in terms of critical thinking and analysis in what happens in the world. Because as artist you have to be connected with that. You have to be aware, you have to be critical of what's around you.
JazzLogical
Back to the music. What kind of things inspires you, I mean to create, for your music?
Vijay Iyer
Well my inspiration comes from life experience, my family, all kinds of disciplines, study…. I had a scientific background in physics and maths too. And also people inspire me. I guess I would say the radical creators. In the sense they create something that was not possible before. They create not just work, but a space in the universe that wasn't there before. I'm talking about Duke Ellington, I'm talking about Thelonious Monk, I'm talking about Cecil Taylor and people like them. It's not they made some pretty sounds; they made some work that was unprecedented. And that's radical.
JazzLogical
Are you a Jazz musician? Or do you considerer yourself just a musician?
Vijay Iyer
That's not for me to say. But I play in Jazz festivals, and in Jazz clubs, people write about me in Jazz magazines, my albums are in Jazz labels, I win Jazz awards…
Well, the word has been good to me; I guess I'd say that.

JazzLogical
About the Jazz scene today: who are doing things that you think are important?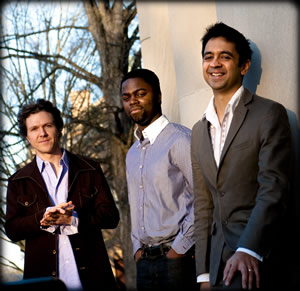 Vijay Iyer
I don't think about just Jazz. I think about music; people that have been creative. Not even just music. But well, among my pairs, I'd say Craig Taborn, a fantastic musician, Steve Lehman, amazing musician, Rudresh, amazing musician, Matana Roberts, Tyshawn Sorey, Okkyung Lee...; they are all amazing musicians.
JazzLogical
Does Jazz has future?
Vijay Iyer
Well, there are so many musicians doing it…